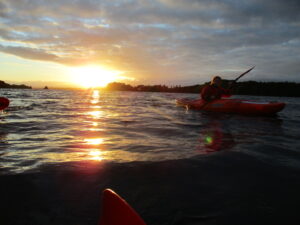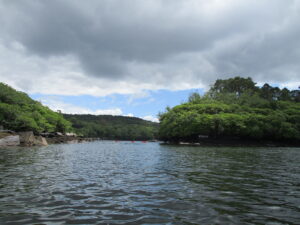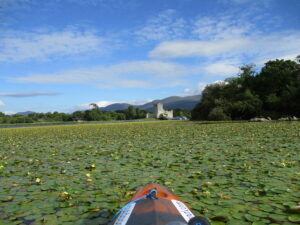 Little bit more wind and rain coming through; then we are into another beautiful stretch of weather! Get in touch if you are interested in joining us on a guided kayaking tour – in either Killarney National Park or Glengarriff Nature Reserve (our two kayaking bases).
In Killarney choose from daytime trips or sunset trips. While in Glengarriff we have sunrise, daytime, sunset and night bioluminescence trips running 😀
Thanks Michelle for this lovely trip advisor review:
"We traveled from North Clare to Glengarriff especially to do the bioluminescence kayaking with Nathan. We were worried the weather would put a dampener on our trip as it was extremely wet and windy.
We were greeted by Nathan, equipped in brand new wetsuits and with a quick refresher on how to kayak we headed out into the dark bay in the pouring rain.
I couldn't help thinking we would see nothing with the rough weather….as we turned the corner the wind died down and the rain subsided. Suddenly we could saw some flickers of light in the water. At first I thought it was light reflecting from the bay….but we were in the middle of the bay, no light around.
This was the start of what I can only describe as being transported to the world of Avatar. We were surrounded by blue glowing light and when we dipped our hands in, we were covered in neon blue. It started to rain again but this was a gift as all of a sudden the water around us started to dance with blue as the rain hit the sea.
We headed off to more nooks and crannies of the bay to be greeted again by more blue magic. Nathan told us it was the best he ever saw. He explained that sometimes you can see the fish light up, so we waited patiently and saw one dart across the water.
We had no concept of time and great chats with Nathan and the other couple who came. We returned to shore after 2.5hrs of magic.
Words do no justice to this incredible experience. I was hesitant at first but that probably made the whole experience even more amazing!
This is a must do and I hope when you go you have just as incredible experience as us."